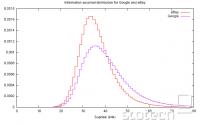 Technology Review
- Pri nadzoru nad podatki, ki jih puščamo naokoli po spletu, mnogokrat pozabimo na kratek enoličen identifikator, ki ga potrebujemo za prijavo na različne strani - na uporabniško ime. Toda ne smemo ga pozabiti, saj so raziskovalci s francoskega Nacionalnega inštituta za računalniške znanosti (
INRIA
) v članku
How Unique and Traceable are Usernames?
pokazali, da lahko preveč unikatna uporabniška imena, ki jih uporabimo na več straneh, omogočajo profiliranje uporabnikov.
Kot vzorec
so vzeli deset milijonov uporabniških imen
, ki so jih pobrali z Googlovih profilov, računov za eBay in drugih strani. Ugotovili so, da lahko polovico teh uporabniških imen povežejo z računi na več straneh in učinkovito izdelajo profil uporabnika. Bolj kot je uporabniško ime unikatno, nižjo entropijo ima in laže ga je križno povezati med različnimi stranmi, kjer je bilo uporabljeno. To utegnejo izkoristiti oglaševalci za ponujanje bolj ciljanih oglasov ali prevarantje pri postavljanju prepričljivih ribarskih strani. Raziskovalci so izdelali
tudi stran, kjer lahko preverimo unikatnost
svojega uporabniškega imena.